Chiang's Cannabis Banking Plans Continue To Culminate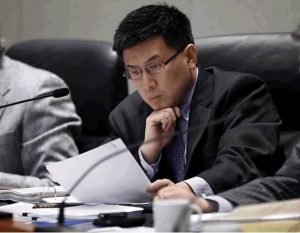 State Treasurer John Chiang

View Photos
Sacramento, CA – Further spurred by the recently enacted Prop 64 legalizing recreational marijuana State Treasurer John Chiang is convening the final in a series of events geared to enable the cannabis industry to do its banking publicly.
Scheduled for tomorrow in Los Angeles is the last of six meetings that have been located around the state for the purpose of discussing how cannabis-related businesses might use public banks to conduct their financial business. These activities are related to the Cannabis Banking Working Group, initiated earlier this year by Chiang, for the purpose of producing actionable recommendations in a summary report.
As more states move towards legalizing broadened use of medical and recreational marijuana products, the issue is becoming a national one. The state will begin allowing commercial sales of recreational marijuana come January 1. However, the substance remains a federally controlled Schedule 1 drug under federal law.
An estimated 70 percent of marijuana-related businesses do not have bank accounts. As Chiang maintains, as they are virtually forced to operate on a cash basis, many legal businesses are constantly running under risk of robbery and physical harm to owners, employees and customers. Too, as Prop 64 imposes a 15 percent tax on retail cannabis sales, a projected $6.6 billion-plus in cannabis sales by 2020, creating banking will allow systemic financial record-keeping that is also more conducive for "seed to sale" tracking.
Among the organizations involved in the working group is the California Bankers Association and Community Banking Network as well as the Credit Union League of California. State agencies include the Bureau of Medical Cannabis Regulation, Board of Equalization and Franchise Tax Board; Employment Development Department; Department of Business Oversight; Business, Consumer Services and Housing Agency, Department of Justice. Other entities are the California Growers and Cannabis Industry associations; State Association of Counties and League of Cities and the Clark Neubert Law Firm.