Calaveras Addresses Media Focus On Its Cannabis Fee Spending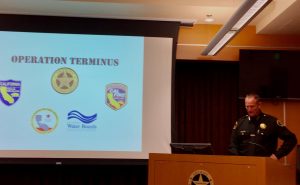 Operation Terminus, Sheriff Rick DiBasilio provides remarks, Aug. 3, 2017

View Photos
San Andreas, CA — Calaveras County's massive Operation Terminus targeting illegal marijuana growers has triggered media inquiries questioning how it is being paid for.
An article written by Capital Public Radio reporter Julia Mitric, who covers its food and sustainability beat, included an interview with County Auditor Controller Rebecca Callen alluding to possible misuse of funds.
In it, Mitric attributed statements from Callen saying that $3.7 million in grower registration fees taken in were supposed to be allocated for direct administrative costs involved with the regulatory program. However, further details and figures supplied by Callen's office to the reporter for her story indicated a lion's share of funds exceeding $900,000 was being spent at the direction of Calaveras County Sheriff Rick DiBasilio; some of it for criminal investigations into illegal grows. The story did not go into spending from the county's voter-approved Measure C tax revenues collected from legally-permitted growers to cover industry enforcement costs.
As reported here, at a press conference last week detailing Operation Terminus, sheriff's officials stated they did not yet have enforcement costs tallied; nor were there figures available relating to mutual aid support costs of the partnering state law enforcement and environmental regulatory agencies.
County-issued Statement Justifies Cannabis Funding Uses
Late this afternoon, County Chief Administrative Officer Tim Lutz issued a press release maintaining that some recent media coverage is erroneously reporting that funds tied to the county's cannabis regulatory program have been misspent by the sheriff's and/or other departments.
The release states, "The County believes the cannabis regulatory program fee fund has properly been used to fund the regulatory program costs and the revenue that the County has received through the voter approved Measure C tax, along with other discretionary General Fund revenues, have been properly used to fund any ancillary and non-regulatory program costs incurred. The County continues to update and formalize processes and procedures for the 2016 Cannabis Urgency Ordinance, which will be adopted by the Board of Supervisors where necessary, while a proposed ban ordinance makes its way through the approval process."
Among the board of supervisors' agenda items at the end of the day was a closed session conference with legal counsel to discuss a potential matter of anticipated litigation of potentially significant exposure for the county. The release specifically made a reference to the session, pointing out that as the county was not able to comment on the content of any closed session item no further comment about it would be made.