New Details On Fuel Spill On HWY 108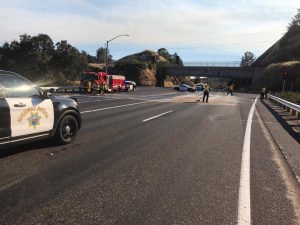 Cleanup of fuel spill on Highway 108 at the South Washington Street and Lime Kiln Road intersection

View Photos
Sonora, CA — The CHP has released new information on the incident that created traffic delays for motorists on Highway 108 during the Thursday evening commute and is looking for the public's help to catch the culprit.
Officers were called to the busy intersection of South Washington Street and Lime Kiln Road around 3:15 p.m. for spun-out vehicles due to a fuel spill. Once on-scene, officers discovered that nearly 30 gallons of diesel fuel had been spilled on the roadway stretch about 100-yards over all four lanes of the highway.
However, how it got there is still a mystery, according to Officer Faustino Pulido, who shares, "At this time it is unknown what happened or who the responsible party was that spilt the fuel. We are looking into possible cameras to see if there is any possible footage of the incident. If anyone has any information they can call the office at 209-984-3944 and give us a tip — you can remain anonymous."
The intersection was shut down and a detour was created along South Washington Street and at the Mono Way exit of the highway. One of the westbound lanes was reopened to traffic after about an hour. Caltrans crews worked for several hours to clean up the mess and the entire intersection reopened around 7:30 p.m.