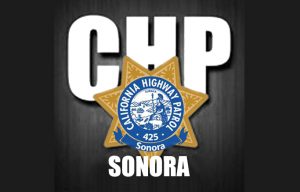 CHP Sonora

View Photos
Buck Meadows, CA – An Oakhurst couple was involved in a crash and the husband was killed when their vehicle hit several signs and a tree before plunging down an embankment on Highway 120 in Tuolumne County.
The wreck happened around 2:30 p.m. Thursday near Hamilton Station Loop Road, east of Buck Meadows. The CHP reports the wife, 79-year-old Artha Dubois, was driving a 1999 Chevrolet 1500 truck going about 55 mph eastbound on the highway. Her husband, 82-year-old Wayne H. Dubois, was in the front passenger seat. For unknown reasons the truck went off the roadway onto a dirt shoulder and struck three signs. Officer Faustino Pulido details, "She over corrected and subsequently lost control of her vehicle. She went off of the right shoulder again and impacted some trees; traveled about 30 feet down the embankment and from the impact against the trees. Mr. Dubois was pinned in the pickup and sustained fatal injuries."
Mrs. Dubois was extricated and flown to Doctor's Medical Center in Modesto suffering major injuries. Neither drugs nor alcohol played a role in the crash.