Update: HWY 108 Fuel Spill Creates Traffic Jam In Downtown Sonora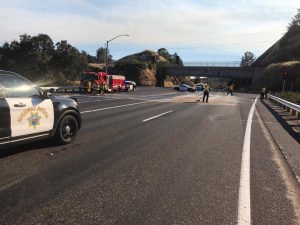 Cleanup of fuel spill on Highway 108 at the South Washington Street and Lime Kiln Road intersection

View Photos
Update at 7:25 p.m.: The southbound lane of South Washington Street has reopened to traffic after a diesel spill on Highway 108 at the South Washington Street and Lime Kiln Road intersection closed the roadway. The CHP reports most of the 30 gallon spill covering about 100 yards has been cleaned up. However, officers will continue to direct traffic on the eastbound lane for another 30 to 40 minute when the roadway is expected to be completely reopened. The westbound lane was reopened to traffic just after 6 p.m.
Update at 6:10 p.m.: The CHP reports that the one of the westbound lanes of Highway 108 has been reopened as Caltrans crews work to clean up a diesel spill at the intersection of South Washington and Lime Kiln Road,which could take about another hour.
Traffic is still being diverted at the Mono Way exit for eastbound travelers backing up traffic on Mono Way as well as heading northbound on South Washington Street.
Update at 5:40 p.m.: The CHP reports traffic is being diverted at Hospital Road for motorists heading southbound on South Washington Street. All northbound traffic is being directed along that roadway to Stockton Road. However, traffic is stop and go and backing up so drivers may just want to avoid the area all together. A Caltrans crew has been called to the scene for clean up and the CHP reports that the fuel is on the roadway only and has not spread to nearby vegetation. It is unclear at this time as to how the diesel fuel was spilled on the highway.
Original post at 3:20 p.m.: Sonora, CA — A traffic alert for you evening commute.
The CHP is reporting that several vehicle have spun out on Highway 108 due to a fuel spill on the roadway. About 30 gallons of diesel fuel is covering the roadway at the intersection of South Washington Street and Lime Kiln Road. The CHP is asking that motorists take an alternative route if possible as officers are directing traffic, which is getting backed up in both directions. We'll bring you more details as soon as they come into the newsroom.