Local Festivals and More Events This Weekend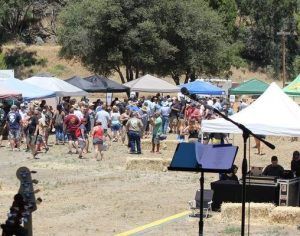 2017 Westside Tribute Band Brew Fest

View Photos
There are many events planned for this weekend including two festivals, several plays and more.
The second annual Westside Tribute Band Brewfest will take place tomorrow (Saturday July 22nd) on the Westside property in Tuolumne City. The event raises money for the Summerville High School's student athletes. Details on the event are here and the KVML "Newsmaker of the Day" interview with Ron Roberson, President of the Summerville Bears Quarterback Club, is here.
Participants at the Westside Tribute Band Brewfest can taste more than 30 of California craft beers, all attendees must be 21 or over.  The gates will open at 12:30 for people holding VIP tickets. General admission begins at 1:15 p.m. and the taps will stop at 5 p.m. The event will be well shaded. There will be special designated driver tickets sold as well so that non-drinkers will be able to enjoy the food, music and entertainment.
This weekend both Saturday and Sunday 10am-5pm is the 40th Annual Twain Harte Summer Art and Wine Festival. Nearly 100 artists will be displaying their work at booths, gourmet food booths will feature olive oils, vinegars, mustards, marinades, pastas, spice dips, breads, salsas, candied apples, etc. plus there will be live music and entertainers. The Twain Harte Area Chamber of Commerce will host Wines in the Pines offering "some of the finest wines in the Mother Lode" under a cooling tent in Meadow Plaza. Proceeds benefit Chamber activities such as Concerts in the Pines which will be held later in the day from 6-8PM at Eproson Park. The 14th annual Classic Car Show hosted by Twain Harte's Family Barber Shop every year since 2003 features "Hot Rods" and "Classic Cars."
Be aware of the Air Quality Alert in effect and maybe venture out to enjoy some theater: Over the River and Through the Woods is at Murphys Creek Theater, "Hamlet" is at Brice Station Vineyards, Joseph And The Amazing Technicolor Dreamcoat is at Fallon House, and The Great American Trailer Park Musical is at the East Sonora Theater. There is also a Rummage Sale Fundraiser at the Aronos Club in Sonora, The Military Sale Golf Fundraiser at Saddle Creek, Nature Crafts at Pinecrest Amphitheater a Tongan Luau at St. Patrick's Parish Hall and the Big Band Street Dance in Columbia State Historic Park.