Update: Search For A Missing Father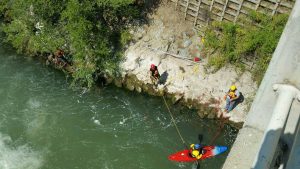 Search efforts in Strawberry

View Photos
Update at 5:50 p.m.: Tuolumne County Sheriff's spokesperson Sgt. Andrea Benson reports that search and rescue teams have cleared the pool area outside of the powerhouse where 32-year-old Robert Bass III of Hickman was last seen. Bass  has not been located. She adds that river levels are very high making it a challenge and unsafe for dive teams to proceed too far down river. Crews may need to work with Tri-Dam to see when there would be availability to help slow water flows to decrease levels for further searching efforts. (Further details regarding the missing man, his son and search efforts can be viewed below.)
Original post at 4:45 p.m.: Strawberry, CA – A search for a missing father began after his 8-year-old son showed rescue crews where he last saw his father fall from a high fence at the Tri-Dam Powerhouse Tuesday night.
The Tuolumne County Sheriff's Office Search and Rescue team is looking for 32-year-old Robert Bass III of Hickman, who was camping with his son at Crandall Peak OHV Park in Strawberry. Sgt. Andrea Benson details what happened, "They were trying to make it back to their camp site. There is another way around; this may have been a shortcut. The part of the fencing he was trying to climb was the only area that didn't have a razor wire on it. If he did fall, assuming that he slipped off of that area, which was the last time his son saw him. The fall would have been approximately 30 feet below."
Sgt. Benson adds that the boy was found waiting for his father at their campsite by other campers on Wednesday morning. Search and Rescue members searched the camp and snorkeler's checked the water below while a drone flew overhead, but there was no sign of Bass. Sgt. Benson reports that today the Powerhouse has reduced flows into the pool near the Dam to lower the water levels to assist with the search efforts. She adds, "If he is not found today, tomorrow it looks like search efforts will continue. They will possibly reduce water flow near Lake Beardsley area so the river levels don't rise to assist dive teams."
The boy was unharmed and was released to his grandfather. Sheriff's officials have released this description of Bass. He is 5'11" and 205 pounds. He has green eyes with brown hair and a beard. Bass was last seen wearing a gray tank top style shirt, black Fox brand motorcycle riding pants, and black riding boots. His picture is in the image box. Anyone in this area who may have seen a person fitting this description is asked to contact the Sheriff's Office at 209-533-5815.