Attracting Tourists With An Award Winning Booth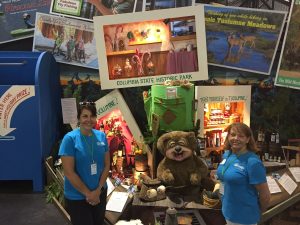 Lisa Mayo and Anna Davies stand in front of the TCVB Booth.

View Photos
The Tuolumne County Visitors Bureau (TCVB) booth at the California State Fair won both the Gold Ribbon and the Best Marketing Award.
Lisa Mayo, TVCB Executive Director, was Thursday's KVML "Newsmaker of the Day".
"We were ecstatic to win the Best Marketing Award" said Mayo. "Special Projects Coordinator Anna Davies had a vision and our booth builder, Richard Bay, brought her vision to life."
This also marks nearly a decade of Tuolumne County winning the Gold Ribbon. Every year, a new display must be built in order to meet the annual theme. This year's booth theme is "Postcard Perfect, Memories in the Making". Pictures and video of Tuolumne County fill the display while children use crayons to color Tuolumne County themed postcards. There is an eight foot tall mailbox, numerous local products and giant smiling bears showcasing the Postcard Perfect vision.
The awards were handed out during a ceremony last Friday night in Sacramento attended by Tuolumne County Representatives Lisa Mayo, Anna Davis, Jennifer Lopez, Richard Bay and Ronaldo Pascuall.
The State Fair is located at the Cal Expo Grounds east of Sacramento. It runs through Sunday, July 30th.
The "Newsmaker of the Day" is heard every weekday morning at 6:45, 7:45 and 8:45 on both AM 1450 and FM 102.7 KVML.