Inaugural Brew N' Que Festival Tickets On Sale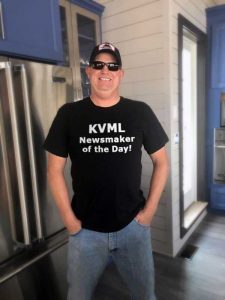 Doug Kennedy

View Photos
A day filled with country music stars, barbeque food and plenty of brew is coming to the Mother Lode Fairgrounds in Sonora on Saturday, September 30th.
Doug Kennedy, Managing Partner with Trado Restaurant Corp, was Wednesday's KVML "Newsmaker of the Day".
The Corporation has finalized its mainstage line-up for the all-day country music concert. Trado previously confirmed artists Luke Pell from ABC's "The Bachelorette," Jackson Michelson and Chris Bandi. Joining them on the Unruly mainstage are Nashville country singer/songwriters Luke Combs and Tucker Beathard.
With gritty, grizzled vocals, Luke Combs stormed onto the country music landscape as a force to be reckoned with. Named a 2017 Artist To Watch, the 27 year-old Asheville, North Carolina native released his debut album "This One's For You" on June 2nd, and opened with the largest album debut from a new country artist so far in 2017. Combs' debut radio single "Hurricane" has quickly become a staple anthem for country fans. Combs second single, "When It Rains It Pours," is hitting radio airwaves now.
Tucker Beathard's ascent to stardom started with his single "Rock On". With a rhythmic way of playing guitar, influenced by his innate drumming ability, Tucker has created some of contemporary country music's most progressive songs. Having played with artists like Dierks Bentley, Keith Urban and Miranda Lambert, Tucker regularly bares his soul in front of a crowd.
The music is only a portion of the great entertainment found at the Unruly Country Brew 'n Que Festival. The festival is comprised of five total events:
1) The live music mainstage.
2) A Kansas City Barbeque Society sanctioned professional barbecue competition.
3) A craft brewery and wine garden.
4) An open bull riding competition put on by Humpz N' Hornz Buckin' Bulls.
5) A West Coast Cornhole competition, a pro-style tournament with a $2,500 purse.
Sign-ups for the Cornhole tournament can be found at http://unrulycountryfestival.com/cornhole/.
Purchase tickets now at www.unrulycountryfestival.com or in person at The Bourbon Barrel and Funky Junk in downtown Sonora and at the Outpost in Soulsbyville.
Early Bird General Admission tickets are available for $30 until July 31. Tickets for children ages 6 to 15 are available for $20. Children 5 and under are free. There are also a limited amount of VIP tickets available for purchase until sold out. As of this morning, there were only eight of these tickets left.
What do you get with your ticket? General Admission tickets get you access to watch bull riding, the cornhole competition, line dancing lessons and dance floor, and the concert main stage. The wine and beer gardens have food and drink available for purchase. Mechanical bull riding will also be available for a small fee.
General Admission attendees will have the option to buy an additional pass that grants access to the front of the country music main stage. This pass is an additional $25 and includes a separate entrance into the country concert and standing room access to the front of the stage. This area will be separated from the General Admission area.
VIP Admission Perks include separate entrance into the main gate, private entry into the country music main stage, front stage views, private restrooms, access to the full bar hosted by The Bourbon Barrel, access to a private food vendor, and an exclusive seated lounge area.
The Unruly Country Brew 'N Que Festival marks the first event promoted by Trado Restaurant Corp., the parent company that manages the Sonora Armory complex. When completed in 2018, the Sonora Armory will include The Bourbon Barrel, a retail store, a newly renovated theater venue, and Green Dog Beer Company.
The "Newsmaker of the Day" is heard every weekday morning at 6:45, 7:45 and 8:45 on AM 1450 and FM 102.7 KVML.