McClintock: Water Shortages Are Our Fault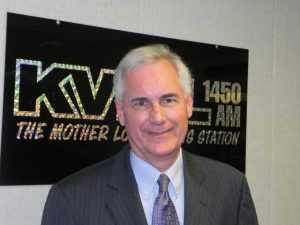 Tom McClintock

View Photos
Legislation authored by Congressman McClintock, H.R. 1654, passed the House. The legislation next goes to the Senate.
McClintock was Wednesday's KVML "Newsmaker of the Day". He recently spoke on the US House floor. Here are his words:
"Mr. Speaker,
Droughts are nature's fault. Water shortages are OUR fault. Water shortages are a choice we made a generation ago when we stopped building new reservoirs to meet the needs of a growing population. The unvarnished truth is that we will not solve our water shortages until we build new reservoirs. And we cannot build new reservoirs until we overhaul the laws that have made their construction endlessly time consuming and ultimately cost prohibitive.
For years, the Natural Resources Committee has heard testimony from frustrated water districts unable to navigate the Byzantine maze of regulations and a phalanx of competing, overlapping, duplicative and often contradictory federal agencies.
After years spent trying to satisfy one agency, another suddenly pops up to claim jurisdiction with an entirely new set of demands in an often endless permitting process — despite the fact they are studying the same project, in the same location with the same data.
The burden this places on our ability to deliver water for the next generation is crushing. For example, the High Savery Dam in Wyoming took fourteen years to permit – but only two years to actually build.
The federal government has literally studied four storage projects in California almost to death. One project, the Sites Reservoir, had over 50 alternative locations studied and there's no end in sight for the feasibility process on that potential reservoir. Similar delays have prevented the expansion of Shasta reservoir for 39 years.
HR 1654 will bring order from this bureaucratic chaos.
It establishes a framework in which federal agencies with permitting responsibilities for the construction of new reservoirs must work together, coordinate their schedules, share data and technical materials, and make their findings publicly available. The end result will be fewer delays, more efficient use of taxpayer dollars, and ultimately, more abundant water supplies.
It is modeled on the Obama administration's approach to constructing new electric transmission lines to accommodate its reliance on wind and solar generation. In October of 2009, the Administration formed the "Interagency Rapid Response Team for Transmission" a consortium of nine federal agencies to coordinate a single unified environmental review document for each project analysis. It is also modeled on provisions sponsored by House Democrats that expedited improvements on the Hetch Hetchy dam, serving the San Francisco region.
This bill simply says the if there's a potential project on Interior or Agriculture Department lands, then the Bureau of Reclamation will be the coordinating agency for the permits — that is, a "one-stop" permitting agency. It will call together all agencies, local and state jurisdictions and Indian tribal governments, establish a timeframe for study and decision making, and then coordinate all reviews, analyses, opinions, statements, permits, license or other federal approvals required under federal law.
It also requires transparency, assuring that all data is available to the public on-line so the science guiding these decisions can be rigorously scrutinized by all interested parties.
It also allows water agencies to fund the review process if federal funding isn't provided, removing one of the excuses that federal agencies have made in slow-walking or stalling project reviews.
This does NOT bypass or alter ANY environmental or safety laws. It simply says that the process needs to be more efficient and that government agencies should coordinate and co-operate with each other rather than talking past each other as isolated and often inscrutable fiefdoms.
Five years of drought in California brought entire cities within months of exhausting their water supplies. The epic drought has now been followed with the wettest year on record, and we have helplessly watched our dams spilling millions of acre feet of water to the ocean, because we have no place to store it for the next drought. Perhaps that's nature's way of reminding us that if we don't store water in wet years, we won't have it during dry ones – and the economic and social devastation have been immense.
If you want to misuse our environmental laws to block any new water storage – then you should vote against this bill. We will continue to see increasingly severe water shortages and spiraling water and electricity bills.
If you want to preserve our environmental laws, you should support this bill, because it places them back within a workable and practical framework. And it places our society back on the road to an era of abundance, where our children can enjoy green lawns and gardens, brightly lit homes, and abundant and affordable groceries from America's agricultural cornucopia."
The "Newsmaker of the Day" is heard every weekday morning at 6:45, 7:45 and 8:45 on AM 1450 and FM 102.7