Update: Another Sought In Connection With Animal Cruelty, Deaths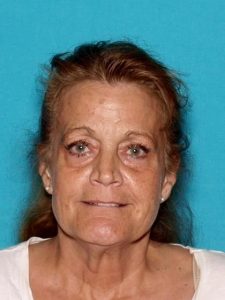 Patti Guy, wanted for questioning by the ACPD in Pet Bath House missing'presumed dead canines' case.

View Photos
Update at 11:15 a.m.: The Angels Camp Police Department has identified another suspect as being involved in an alleged illegal killing of three dogs while under the care of the Pet Bath House and boarding kennel and is reaching out to the public for help.
According to Angels Camp Police, local resident Patti Guy, 60, has been uncooperative in the investigation (detailed further below) and is therefore herself wanted on several related felony charges. These are three counts each of animal killing, maiming, abusing animals and stealing, taking and or defrauding animals; and one count of criminal conspiracy.
Police Chief Todd Fordahl states that while the actual status of the animals is still being sought, it is believed they most probably were destroyed. He adds, "We are working on pressing this third party that is involved and hoping that they are going to decide to cooperate a little bit more than they have been in providing the closure that we need to close out the case — and provide the closure that the pet owner also needs."
Police are asking that public aid efforts to locate Guy, who is currently arrestable on the above counts, by not approaching or detaining but simply reporting her whereabouts to the Angels Camp Police Department, at 209 736-2567. You can view a photo of Guy in the image box slideshow.
Original Post at 6:30 a.m.: Angels Camp, CA – A Pet Bath House proprietor is facing numerous charges following an investigation into the apparent deaths of three dogs under her care.
Angels Camp Police Chief Todd Fordahl says his department became aware of what now is a case undergoing further investigation in conjunction with the Calaveras County District Attorney's office. It will seek the truth behind what really happened to a local man's three pit bulls while they were boarded at the business under the charge of co-owner Vonna Hughes, 68.
The victim, a Butte Fire survivor now staying in San Andreas, provided background about his situation to police, detailing that after being displaced when he lost his home to the fire, he initially boarded the three canines at a facility in Valley Springs for about 18 months, where they stayed without incident, and he visited them regularly.
Moved To A 'Better' Facility? 
Chief Fordahl recounts that the man told him the facility recommended  that he move them due to the pea gravel ground surfacing that some of the canines had begun ingesting. After temporarily housing them with County Animal Services the dogs were placed under the care of Pet Bath House on June 21, which has concrete floor surfaces, and the victim paid for the stay in advance.
Eight days later, he allegedly received a telephone call from Hughes, who said that the dogs got loose and became involved in a dog fight with another boarded dog. She also asked him to compensate her for a related vet bill, which he did. Two days after that, on July 1, Hughes called him again to report that a second incident occurred during which his dogs reportedly became involved in another dog fight causing injuries to her and other dogs.
A day later, on July 2, she allegedly notified the victim that his three dogs were "put down," due to their aggressive behavior, and further indicated to him that the police department was involved in the matter.
Allegations Of Falsifying Information, Cover-ups
The chief notes that his department first became aware of the incident on July 4 when the victim called to report that his dogs were illegally "put down."
Once the information was reported to the Angels Camp Police, an investigation began, and it was discovered that Hughes provided false information to County Animal Services regarding the status of the dogs and the severity of her alleged injuries. Chief Fordahl emphasizes that Hughes initially reported to County Animal Services that the dogs in question had been relinquished to the care and custody of their owner.
While Hughes initially advised police that the dogs had been turned loose, it was later discovered that she made arrangements for a third party to "take care" of the dogs, according to the chief. The third party involved has been identified, and so far is uncooperative in providing information to police. To date the true status or location of the dogs is unknown and it has not been confirmed if they are alive or dead. Chief Fordahl says the investigating officer has reason to believe that the three dogs have been feloniously killed and is attempting to gather confirming information.
In the meantime, Hughes was arrested Saturday and booked into the Calaveras County Jail on multiple felony charges related to animal cruelty, animal neglect, theft of an animal and conspiracy. He says an investigation is ongoing at county agency levels to determine whether or not her business should remain open.