Water Safety Warning For Lakes, Rivers And Streams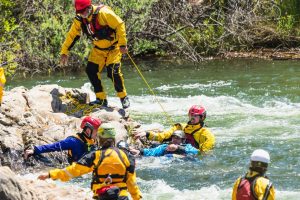 TCSO swift-water rescue team training

View Photos
Sonora, CA — With the record snowfall and the temperatures heating up, fast-flowing water can be dangerous not only for humans but their pets too.
Tuolumne County Sheriff's officials caution that waterways will be especially cold, fast, and running higher than normal well into the summer months this year. They warn, "Just because it is a warm, beautiful day does not mean the waterways and swimming holes within the county are safe. Keep yourself and your loved ones safe near the waterways over the summer months and keep our swift-water team dry!"
Tuolumne County Animal Control also has this message for pet owners: "Keep your dogs on leashes while hiking, and out of the water. Even though dogs are strong swimmers, they cannot survive the current conditions of the rivers."
Sheriff's officials offer these safety steps for any water outing:
Plan Ahead:
Provide your location and expected time of return to someone, and let them know when you return safely.
Consider purchasing and bringing a satellite messaging/communication device on your trip, cell phone service is limited in our forest areas, and in an emergency, a cell phone may not work.
Stay cautious around the water:
Cold, fast-running water can be dangerous to even the strongest swimmers due to the speed of the water, obstacles below the water's surface, and cold water temperature, which can cause an involuntary inhalation of air or water and can start the drowning process.
Avoid entering the water to rescue a victim. Throw something that floats and contact emergency services.
Do not go to waterways alone and wear a life jacket when recreating in or near waterways.
Always pay attention to children around waterways:
Actively supervise children in and around water with your undivided attention, and do not assume that someone else is watching them.
Teach children how to be safe around waterways by wearing life jackets and teaching them to be cautious and aware of potential dangers such as river currents, cold water effects on the body, underwater obstacles, and changing weather.
Tuolumne County Public Health also provided these safety tips:
If you fall into fast-moving water, do not try to stand up. Most drownings result from getting a leg or ankle caught in an underwater rock ledge, between boulders, or snagged in tree limbs or other debris. Lay on your back with your feet pointing downstream and your toes pointing up toward the surface.
Do not tie yourself into safety ropes; they can drown you.
Avoid rock-hopping. Stream-polished rocks along the water's edge may be slippery when wet or dry.
If you choose to cross a stream by going through it, study the area first. Avoid deep and/or swift water.
When crossing a natural bridge of rocks or logs, consider where you will land if you fall. Never cross above rapids or falls.
If you are crossing a stream, unbuckle your pack's waist strap so you can shed it if you fall to prevent being pulled under by its weight. Consider putting your back in a waterproof back, which becomes a floating device to help your head stay above water.