Sonora Certified Farmers' Market Returns This Weekend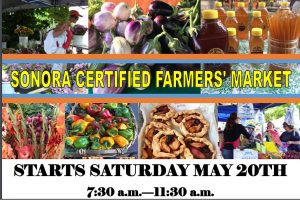 Sonora Certified Farmers' Market flyer

View Photos
Sonora, CA – A Saturday morning staple, the 2023 Sonora Certified Farmers' Market, returns this weekend, other markets around the Mother Lode have already begun or will be starting soon.
The market, brimming with fresh fruits, vegetables, flowers, and other yummy treats, crafts, and music, is back in business tomorrow. It is open from 7:30 a.m. to 11:30 a.m., running through mid-October, at the Theall Street Parking Lot between Stewart Street and Shepherd Street in downtown Sonora.
That lot will close at 3:30 a.m. for vendor set-up, and "no parking" signs will go up every week in advance to remind motorists.
"We ask you to plan ahead and park in alternate locations on the evening prior," shared market organizers, adding, "As a courtesy, we will attempt to locate a phone number for the vehicle owner to move the vehicle, but please understand that we must tow vehicles left beyond 3:30 a.m."
Other farmers' markets in the Mother Lode are listed below:
Peaceful Valley Farmers' Market is open every Friday evening from 4 p.m. until dusk through Oct. 13. It is located at 14888 Peaceful Valley Road in East Sonora (across Mono Way from Tractor Supply).
The Jamestown Farmers' Market, located on Main Street, is in the parking lot between the Jamestown Hotel and the National Hotel. The market will be held every Thursday evening from 4:00 to 8:00 p.m., starting May 25th through September 28th.
Tuolumne Concerts in the Park and Outdoor Market, located on Main Street and Fir Avenue at the West Side Memorial Park in Tuolumne, runs from 5 p.m. until dusk on Wednesdays, with bands playing from 6 p.m., starting June 7–Sept. 6. For a schedule of the bands, look at the flyer in the image box.
The Angels Camp Farmers' Market at Utica Park is open Friday evenings from 5 p.m. until dusk, starting May 21–Sept. 24.
The Murphys Certified Farmers' Market runs every Sunday from June 11 through October 29 from 9 a.m. to 1 p.m. at the Murphys Community Park, located at 505 S. Algiers Street in Murphys.
All are listed in the events calendar and can be viewed by clicking here.