Update: Search Continues For Missing Groveland Woman And Her Dog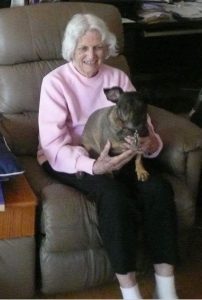 Missing Groveland woman Carol-Morgan and her dog Gigi

View Photos
Click here to view the latest story on the search. 
Update at 3:15: Friends of Groveland resident Carol Morgan, 85, missing since sometime yesterday afternoon, have dropped off food, water and other supplies in support of significant search team efforts still underway.
As of 3 p.m. Sgt. Andrea Benson of the Tuolumne County Sheriff's Office states that search teams, as they complete assigned areas, are returning to the command center map area to receive their next assignment. If Carol is not located before dark, efforts to locate her will continue throughout the night. Due to the triple-digit heat and a quite probable lack of water obvious concerns for her health are elevated.
As reported earlier (see below), units are committed to continue search operations tomorrow as necessary.
Update at 11:59 a.m.: Dozens more search and rescue as well as other support personnel are joining an expanding search for Carol Morgan of Groveland and her dog Gigi.
Clarke Broadcasting received this update from the command post on Mueller Road near the Pine Mountain Lake Grill, where Tuolumne County Sheriff's spokesperson Sgt. Andrea Benson fills in the latest details here:
"Search and rescue members from Calaveras, Merced, Stanislaus, Marin, Alameda, Contra Costa, Santa Clara [counties] and Yosemite are joining the search today for Carol," Benson states. She adds, "Yosemite Search and Rescue will be adding a trailing dog team to assist CRDA [California Rescue Dog Association] K-9 team – and the Tuolumne County sheriff's detectives along with department's community service unit will be conducting door-to-door home checks and passing out flyers to residents in the area. A CHP H-40 helicopter from Fresno will also be joining the search efforts today."
If circumstances require that the search continues into tomorrow, Benson says the Solano County-Alpine County K-9 team and an additional 15 members from Contra Costa will also be responding to assist.
While residents and visitors in the area will likely notice activities, much of the search area is in forested areas off the roadways around the tree and brush-filled tracts of homes and lots, Benson explains. The door-to-door visits are being done in the event that Carol may have wandered into someone's vacation home or that someone who did see her may be trying to help her, not realizing that she was reported missing.
"She has wandered off a few times off before," Benson confides. "The last time they found her she was close to home, just sitting under a tree. But there was a time before when she walked away from a doctor's appointment or such and she was found quite a ways away."
Subsequently, searchers are spreading out and increasing their radius today as additional units arrive. "They are also taking flyers around the different areas and neighborhoods, businesses, and to the maintenance crews near Pine Mountain Lake as well." Benson stresses, "Obviously, we are really concerned with the weather being extremely warm out and not knowing exactly …when she left. Dehydration and the heat are our main concerns."
Benson points members of the public to the photo provided of Carol and Gigi together (viewable in the image box slideshow) as it is reportedly the most recent available of the pair, taken within the past month.
Original Post at 11:19 a.m.: Groveland, CA — Through the overnight hours search and rescue teams continued to scour a one-mile radius around the home of an 85-year-old Groveland woman with dementia, reported missing along with her dog by her husband.
According to Tuolumne Sheriff's officials the search area includes dense vegetation and rough terrain, which are providing significant obstacles. Mutual aid search teams are joining the effort.
As reported here, the woman, Carol Morgan, was last seen by her husband at their home on Tip Top Court at Pine Mountain Lake around 11:30 a.m. as he was leaving it. However, when he returned at 5 p.m. she and her dog Gigi, a dachshund beagle mix, were both gone.
Carol was last seen wearing a light blue shirt and dark blue slacks. She is described as 5 feet 5 inches tall, approximately 140 pounds with white hair and hazel eyes. Gigi is about 16 pounds and was wearing a pink collar. Anyone who may have spotted either of them or who might have any helpful information is asked to call the sheriff's office at 209 533-5815.
Additional images have been provided by the Tuolumne County Sheriff's Office pertaining to the case that can be viewed using the slideshow link in the image box. Anyone