Missing Groveland Woman Found Safe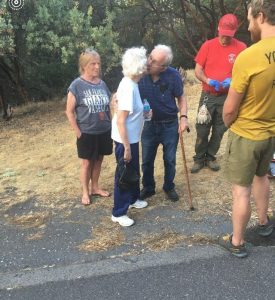 Carol Morgan reunited with husband

View Photos
Groveland, CA — Groveland resident Carol Morgan, 85, who had been missing since Wednesday afternoon, was located safe this evening, along with her dog.
Sgt. Andrea Benson with the Tuolumne County Sheriff's Office reports, "Just before 8pm the sheriff's office received a call from a resident who had seen a woman and a dog matching the description of Carol and Gigi walk out onto Mueller Drive. Search and rescue teams rushed over to the 12000 block of Mueller Drive and confirmed that indeed the woman and dog were Carol and Gigi. Carol was a bit dehydrated but otherwise appeared healthy and clean."
An initial medical evaluation was conducted, and then Morgan was driven to her home where she was reunited with her husband. She has not stated where she was, but only believed she was gone for a short time.
Sgt. Benson adds, "We would like to thank everyone from the many agencies who assisted in the search efforts and the wonderful outpour of concern and kindness from those who shared her information and residents who helped look for Carol."
Click here to view an earlier story.