Update: Red Flag Warning Issued For The Sierra Nevada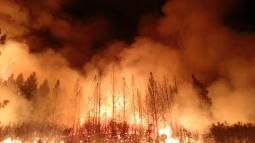 Forest Fire

View Photos
The National Weather Service has issued a Red Flag Warning for the Sierra Nevada, which is in effect from 1 PM this afternoon to 11 PM tonight.
Isolate to scattered dry thunderstorms are expected to develop this afternoon. The storms will provide little rainfall.
Winds will be gusty and erratic wherever thunderstorms do develop.
Any fires that develop will likely spread rapidly. Outdoor burning is not recommended.
A Red Flag Warning means that critical fire weather conditions are either occurring now, or will shortly. A combination of strong winds, low relative humidity, and warm temperatures can contribute to extreme fire behavior.