Judge Confirms PG&E To Pay For Butte Fire Victims' Damages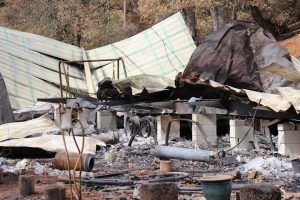 Butte Fire Recovery Debris Removal

View Photos
Sacramento, CA — Sacramento Superior Court handed down its final legal determination today against PG&E regarding their liability for the Butte Fire.  The ruling finds PG&E liable under inverse condemnation for damages caused by the Butte Fire to private property. The motion was filed by both PG&E, and Steven M. Campora's office by Dario de Getaldhi, Amanda Riddle, Frank Pitre, and Robert Jackson.
Gerold Singelton, a lawyer following the case representing Butte fire victims, says; "Any plaintiff that does go to trial [now] will be entitled to recover all damages they can prove for both real property and personal property. That is any property affixed to the land, like a house, or any thing that is on the land, trees, and erosion damages and for personal property, cars, anything like that, those are recoverable in the inverse condemnation claim. The court has now decided at the trial court level that PG&E is liable, and so if there is a trial all he or she will need to do is prove the amount of their damages."
While PG&E is a private company, it serves as a public utility managed by the government due to its monopoly in California.  Since transporting electricity is inherently dangerous,  the damages PG&E was found to be liable for are covered under inverse condemnation. Inverse condemnation involves the taking of property by a government agency, in this case the publicly managed utility PG&E, which greatly damaged or destroyed the value of the property. An owner may claims he or she is entitled to payment for the loss of the property (in whole or in part) under the constitutional right to compensation under the government's eminent domain right.
PG&E can appeal the court's decision to a higher court.
The California Public Utilities Commission's investigation found that PG&E did not have the minimum clearance required around its equipment and failed to maintain its overhead conductors safely and properly. A gray pine tree contacted a PG&E 12-kilovolt overhead electric conductor and ignited the fire on September 9, 2015. The Butte Fire burned 70,868 acres in Amador and Calaveras counties. It destroyed 549 homes, 368 outbuildings and four commercial buildings. It also resulted in two civilian fatalities and one injury.