Republicans Upset Over Changes To Recall Election Rules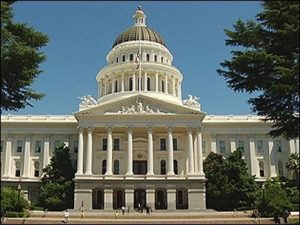 California Statehouse

View Photos
Sacramento, CA — Republicans are crying foul over a move by California Democrats to create additional requirements for recalling a member of the legislature.
Allegations are that Democrats made the changes to protect a southern California Senator, Josh Newman, who is under fire in his district for supporting the recent gas tax increase. There has been a movement to place a recall initiative before voters in the coming months.
Typically, changes to election policy go through extensive review, but instead some alterations were slipped into the new $125-billion budget that was approved this week.
The changes would create a 30-day period for voters to withdraw signatures, give time for the Department of Finance to estimate the cost of a recall, require counties to verify every voter signature, etc.
Republican Assemblyman Jim Patterson says, "What the legislature did was use the legislative process for a cheap political stunt to try and change, which they have done, election law to protect one of their vulnerable members."
The change will likely push off a recall vote until the June primary election next year, rather than a special election occurring beforehand. The special elections typically have fewer voters turning out than the primary election, and Republicans will likely come out to vote regardless. So, if pushed to next year, there may be a better chance for him to hold his seat.
If Newman lost his seat, Democrats would no longer have a super-majority in the Senate.