Merced River Is Expected To Reach Flood Stage Sunday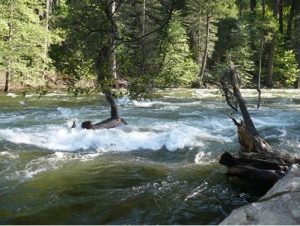 Merced River

View Photos
The Merced River at Pohono Bridge in Yosemite National Park is expected to reach Flood stage this Sunday night.
The combination of above normal temperatures and rapidly melting snow over the higher elevations of the Sierra during the next several days, will bring an increase in water levels and flows along rivers and streams. The area waterways are running very cold and fast, increasing both the risk and probability for hypothermia and water rescues.
The California-Nevada River Forecast Center is forecasting the upper Merced River in Yosemite National Park to peak near or slightly above Flood stage at Pohono Bridge by late Sunday night.
The National Weather Service has issued an Excessive Heat Watch for the Sierra Nevada, the Mother Lode and the Northern San Joaquin Valley from Friday afternoon through Monday evening.
High temperatures in the Central Valley will be near 100 degrees on Friday. The highs will then range from 100 to 110 degrees on Saturday, Sunday and Monday. Low temperatures in the Central Valley will range from 65 to 75 degrees.
Models are suggesting that the triple digit heat will continue for most of next week.
Hot temperatures will increase heat related illnesses for those exposed to prolonged outdoor heat, especially the elderly, children, and other sensitive groups without access to air conditioning.
There may also be heat stress to livestock with limited relief from the heat during the overnight hours.
An Excessive Heat Watch means that a prolonged period of hot temperatures is expected. Hot temperatures will combine to create a DANGEROUS SITUATION in which heat illnesses are possible. Drink plenty of fluids, stay in an air-conditioned room, stay out of the sun, and check up on relatives and neighbors.