State Budget Revision Talks Cause For Courthouse, Tree Removal Funding Concerns?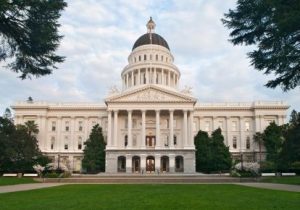 Sacramento Capitol Building

View Photos
Sacramento, CA — Ears are straining, training on budget talks underway this week at the Capitol regarding possible cuts that could impact key local funding.
Mother Lode lawmaker Senator Tom Berryhill's staff is reporting thus far that, with regard to monies to finance construction of the new Tuolumne County Courthouse (reported here), there have been no changes to the status. Staff indicates that this signals, as of right now, that the Judicial Council is still planning to move forward with the project, currently on a county hold in anticipation of future funding. However, the assumption is that since no budget change proposal was made requesting an appropriation or re-appropriation for it in this year's budget, the council's plans for it are potentially still a year or more out.
In other budget-related DOJ news, the May revision has added a $6.5 million General Fund -– plus 31 positions — described as necessary to address the state's new legal workload related to various actions taken at the federal level impacting public safety, healthcare, the environment, consumer affairs, and general constitutional issues.
Tussling With Uncertain Tree Mortality Funding
With regard to local concerns as to the status of continued tree mortality funding, the May revision addresses "concluding drought response" funding, despite the still escalating incidences of bark beetle-killed trees across the state — and the fact that several jurisdictions, such as Calaveras County, are just beginning to roll out their projects.
The May revision currently calls for reducing State OES program funding for tree mortality and emergency water tanks from $52.7 million to $8.5 million; and zeroing out drought-related emergency response funding from the state operations office, which was previously budgeted at $4 million.
Calaveras County has been busily attending to Butte Fire hazard tree removals ahead of tackling project plans to address its tree mortality crisis. County CAO Tim Lutz told Clarke Broadcasting that while he is concerned, he is optimistic that the state sees the enormity of what counties are still facing in dealing with the disaster — and will come through to help provide ways and means to effectively deal with it.
Senator Berryhill called for increasing the amount of state aid Tuolumne County would receive in tackling tree mortality costs from the current 75 percent of removal costs to 90 percent in his SB 265, which passed the Senate on May 31 with strong support, as reported here.
To view the latest revision of the state budget, click here.