Tuolumne County Takes Action In Support Of New Courthouse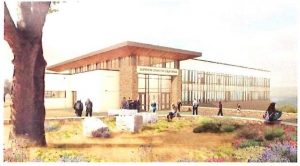 Tuolumne County Courthouse Artist Rendering

View Photos
Sonora, CA — The Tuolumne County Board of Supervisors indicated they want to explore all avenues to encourage the state to fund a new courthouse in Sonora.
We reported last week that final design for the new $65-million facility is nearing completion, but when state funding will be made available remains unclear. It is due to a shortfall in SB 1407 funding that is being utilized to fund state courthouse projects. Tuolumne County's 61,537 sq. ft. facility is planned to be situated at the law and justice center site off Old Wards Ferry Road.
The current state recommendation, which is to finish the design and then put the project on hold indefinitely, will be voted on during a state Judicial Council meeting that will span two days, August 25-26.
Yesterday the Supervisors voted to send a letter in support of moving Tuolumne County's project forward. In addition, Board Chair Karl Rodefer is planning to join Tuolumne County Superior Court Presiding Judge Donald Segerstrom at the meeting later this month. Supervisor Randy Hanvelt added that he will soon be speaking with representatives from different state organizations, and Senator Tom Berryhill, about this matter as well.
The motion to send the letter was approved 5-0.