Update: Sonora Pass Open For Summer Season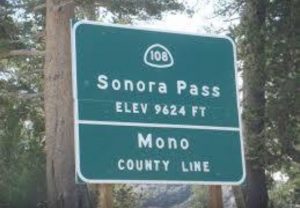 Sonora Pass Sign

View Photos
Update at 2:20 p.m.: Just about 20 minutes over its target of 2 p.m., Caltrans has opened the gates to Highway 108 Sonora Pass for the summer season.
Original post at 11:45 a.m.: After being delayed due to some high country snow this past weekend, Caltrans officials are nearly ready to open Highway 108 Sonora Pass for the summer season.
If everything goes as planned today, Caltrans reports that the gates for Sonora Pass should swing open at two o'clock this afternoon. In recent weeks, Highway 108 has only been open to Kennedy Meadows.
Caltrans spokesperson, Skip Allum says, "It has been quite some time since it has taken this long in the year to get the pass open, but I think it is going to be exciting for everyone that has been looking to get up there and take a look at the snow from the winter, and enjoy the mountains."
Over the past decade, Sonora Pass had always opened prior to Memorial Day weekend.  It opened as early as April 17 in 2015. Last year it opened on May 18. There is still no definitive word as to when Highway 4 Ebbetts Pass or Highway 120 Tioga Pass will open.