Butte Fire Hazardous Tree Removal Nearly Complete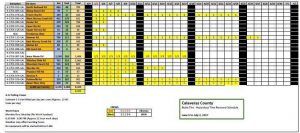 Schedule of roads where Butte Fire Hazardous Tree Removal is taking place in June

View Photos
Mountain Ranch, CA — Crews are one step away from crossing the finish line when it comes to bringing down hazardous trees in the Butte Fire burn scar.
Calaveras County officials report crews have reached the 99 percent mark by working through the Memorial Day weekend and bringing the total number of chopped down trees to 8433. The stubborn last one percent is taking more time due to trees in rugged terrain and the challenge it will take for fallers to cut them down.
To date hauling crews have removed 63 percent of debris and logs left by the cutting crews, which is chipped at the Wallace facility, and then taken to Chinese Camp to a Biomass Plant to turn the waste into energy.
Next week six crews will be cutting and hauling from 6:30 a.m. to 6 p.m. Monday through Saturday along Fricot City, Hawyver, Jesus Maria Worden Potteroffs and Baker Riley roads. Motorists can expect a delay in these areas during the day. To view the entire months schedule, click here: Schedule of roads where Butte Fire Hazardous Tree Removal is taking place in June