Your Camera Could Help Fight Crime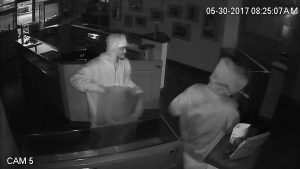 Firefall Jewelers burglary pictures from surveillance video

View Photos
San Andreas, CA — The Calaveras County Sheriff's Office is asking residents and businesses that have surveillance cameras on their property to help them build a database to catalog the cameras in the county.
Sheriff's officials note that this would aid them to quickly retrieve video and know if there are cameras in the area after a crime has been committed; adding that the footage can reveal vital information and help investigators in solving crimes.
Sheriff's officials indicate video is one of the best methods for not only apprehending criminals but getting convictions as suspects are caught in the act. Anyone interested can register their camera with the sheriff's department.  Participation is completely voluntary and there is no cost to register. All information is confidential with only sheriff's personnel allowed to view videos, according to sheriff's officials.
For more details contact Sheriff Technician, Audra Dagenais at (209)754-6500 or ADagenais@co.calaveras.ca.us.