Another Umpqua Bank To Close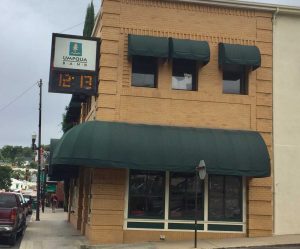 Umpqua Bank In Downtown Sonora

View Photos
Sonora, CA — Clarke Broadcasting has learned the doors of the downtown Sonora Umpqua Bank will permanently close at the end of August.
The bank is located at 229 South Washington Street and employs a half a dozen workers. Umpqua Executive VP of Communication Eve Callahan cites a lack of foot traffic for the closure, stating, "The reason is just that technology is transforming how our customers want to bank with us and how we can adapt, change our offering to reflect those changes. People are doing more and more banking online on their phones and computers. Fewer of them are coming into physical locations to do their banking so this is one way we can adapt and invest in our online and digital tools."
Regarding the six employees, Callahan touts the bank's track record of taking care of workers during times of change, confirming, "That will not be any different in this case. We have more than 200 openings across the company and will be working really closely with those associates to help them find other opportunities within Umpqua Bank and feel strongly that that's an important part of how we take care of our people and how we navigate change like this." However, she stopped short of saying all would remain employed by the bank.
For customers their accounts will automatically be moved to the remaining Umpqua Bank branch in the Junction Shopping center in East Sonora. "We want this to be as smooth a transition as possible for our customers," indicates Callahan. Whether the remaining branch is in danger of being shutdown she adds, "There are no plans at this time for any additional changes in Sonora."
This is the third branch closed by the bank in a little over a year. In June of last year the Jamestown and Columbia branches were shut down with some workers and customers' accounts transferred to the downtown Sonora branch, as reported here. At that time the bank officials cited a need for consolidation as the reason for the closures.