Sonora Drug Bust Nets Arrests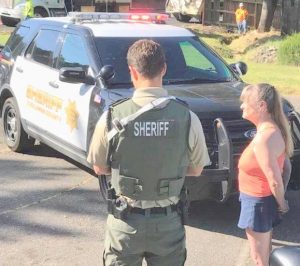 Scene of Sonora drug bust

View Photos
Sonora, CA – Tuolumne County Sheriff's officials report that two women were taken into custody following a search warrant raid at a Sonora home.
The residence is located at 20290 Jamestown Road in Sonora. On Thursday around 8:30 a.m., narcotic agents, deputies and probation officers with a warrant in hand searched the home and found numerous items related to the possession and use of controlled substances.
Two women inside the house, 67-year-old Linda Mogg and 36-year-old Ashlianne Palmertree were arrested for possession of a controlled substance and paraphernalia. Mogg faces an additional charge of keeping a place to sell controlled substances.
As earlier reported here, Palmertree was arrested last year in a SWAT-involved multi-agency raid on a drug house on North Stewart Street in Sonora. In that incident she was charged with misdemeanor possession of a controlled substance.