Burglars Make Off With Thousands In Jewelry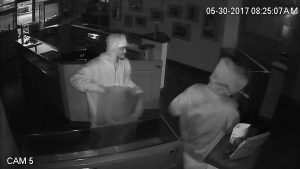 Firefall Jewelers burglary pictures from surveillance video

View Photos
Valley Springs, CA – Three suspects remain on the loose and Calaveras County Sheriff's officials are asking for the public's help to identify them.
The thieves broke into Firefall Jewelers located at 1906 Vista del Lago Drive in Valley Springs early Tuesday morning. Deputies were called to the store just before 6 a.m. and discovered damage to the front door. A search turned up no suspects but a review of video surveillance footage showed two male subjects breaking into the business and taking over fifty Citizen Brand watches along with other gold and silver jewelry, totaling more than $14,500 in merchandise.
Sheriff's officials give these descriptions of the suspects:
Suspect One: 20's years of age, white, male 5'11, "goatee" facial hair, wearing a hoody and ball cap
Suspect Two: 20's years of age, 5'9" brown hair, wearing a hoody
Investigators are also looking for an older brown mid-size van similar to a Chevrolet Safari or Ford Astro that may have been used as the get-a-way vehicle.
Anyone with information regarding the burglary, the suspects or van should call the Calaveras County Sheriff's Office Anonymous Tip Line at (209) 754-6030 or the Sheriff's Office business line at (209) 754-6500.