Memorial Day In The Mother Lode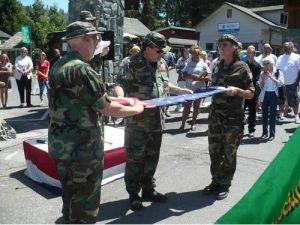 Twain Harte Memorial Day

View Photos
Sonora, CA — It is Memorial Day, and there are events taking place today in the Mother Lode to pay tribute to and remember those who have fallen.
There will be a 10am ceremony at the Divide Cemetery in Groveland, an 11am Memorial Day Salute at Columbia State Park, an 11:30am flag ceremony and parade in Twain Harte, and a pair of band concerts at Murphys Community Park. There is also a family Memorial Day Celebration in honor of local heroes at the Christian Heights Church. It runs from 10am-4pm. You can find a rundown of events in the community events section of myMotherLode.com.
In addition, on Tuesday, the Carter's Cemetery Board will be present a ceremony at 10am. It always falls on May 30, the original holiday. It is organized by VFW 4748 with the help of VFW 3154, VVA 391 and Summerville's Jazz@8. Light refreshments will be served afterwards.
A CHP Maximum Enforcement Period runs until 11:59pm and all available officers will be on the roadways. The Highway 108/120 Yosemite Junction is expected to be a congested area, and officers are planning to be on hand helping to direct traffic.
California Governor Jerry Brown has issued an official proclamation in honor of the holiday. You can read it below:
"On Memorial Day, we pay tribute to Americans who have suffered and died in war.
The custom of marking this day originated just after the Civil War. To help heal the wounds of war, Americans in all parts of the country began decorating the graves of the dead with flowers, a universal symbol of the renewal of life. As a small step in the lengthy task of reuniting a nation divided, we chose to honor all the dead, Union and Confederate, regardless of our own allegiances during that terrible struggle. After the First World War, we expanded our observance to honor all Americans who have fought and died in any of our nation's wars. In 1971, the United States Congress declared Memorial Day to be a national holiday observed on the last Monday in May.
Today, I ask all Californians to pay tribute to our fallen military heroes. In their memory, I have ordered that flags be flown at half-staff on all state buildings and grounds throughout the state. In addition, I would ask you to participate in the National Moment of Remembrance, and pause at 3:00 p.m. on Memorial Day for a moment of silence to honor those who have made the ultimate sacrifice.
NOW THEREFORE I, EDMUND G. BROWN JR., Governor of the State of California, do hereby proclaim May 29, 2017, as "Memorial Day."