Winter Damage Will Impact Recreation in Stanislaus National Forest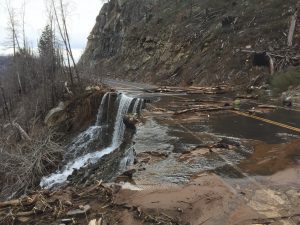 Cottonwood Road Damage

View Photos
Sonora, CA — Numerous roads in the Stanislaus National Forest will be closed into 2018 as at least $15-million in damage was accrued over the winter months.
It will be a major focus of this weekend's Mother Lode Views show with acting Stanislaus National Forest Supervisor Scott Tangenberg and Forest Engineer Tim Hughes. They will give an overview of the known damage, explain where the funding will come from for repairs, how long they will take, and what it means for recreation. Some popular spots will be inaccessible during the upcoming summer tourist season. Hard hit areas in Tuolumne County include Cottonwood Road and Beardsley Road and there are also day-use and recreation areas impacted in Calaveras County.
In addition, the forest officials will speak about ongoing efforts to fight the bark beetle epidemic, what the Rim Fire burn scar looks like nearly four years after the fire, and if there have been any changes for the forest in the immediate period following the transition of presidential administrations in Washington, DC.