Habitat For Humanity Neighborhood Thrives As It Continues Growing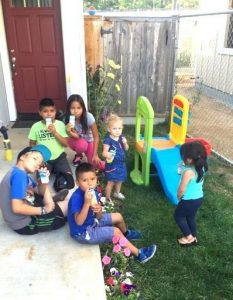 The Parrots Ferry Village kids take a popsicle break.

View Photos
Sonora, CA — While "build it and they will come" was a movie-worthy edict for Field of Dreams, local Habitat for Humanity housing experts say their "build it and they will stay" approach to workforce housing is working well at their Parrots Ferry Village build.
In fact, according to Habitat For Humanity Tuolumne President and CEO Trinity Abila, the Columbia subdivision, where an eventual 35 homes will eventually stand, is now established enough to hold a block party welcoming the two latest families who will shortly be moving into houses #13 and #14, homes they themselves helped build.
The June 10th potluck barbecue will be hosted in the neighborhood on Haughton Circle from 11 a.m. until 2 p.m. It is also a free and open to the public event celebrating all the families of what Abila proudly describes as a now vibrant community.
More Groundbreaking, Application Taking
Also at that time, two more families who are partnering with Habitat to build houses #15 and #16 will be taking part in that official groundbreaking although actual construction on those homes will begin in July. Too, Abila notes, while applications are not yet being collected for houses #17 and #18, the call for paperwork is coming soon and the Habitat board will be selecting those partnering families on Sept. 26, after which those builds will begin the following month.
"We are building this amazing…'old school' community that we — or at least I remember growing up together in," Abila happily enthuses. She recounts that, on the first warm day, all the Parrots Ferry Village kids, who together represent a mix of ages and ethnic backgrounds, all wound up playing and eating popsicles together. So, as she merrily explains, "We decided this time, that since it has become such a community-type neighborhood — we should hold a block party."
Asked about Tuolumne County's ongoing challenges to provide sufficient affordable housing, Abila's tone turns somber for a moment. "Habitat for Humanity International just sent out a statistic that I thought was really powerful — it reminded us that one of four Americans live in sub-standard housing." Locally, she describes the need is so great that Habitat is doing what it can to pick up speed and do even more.
Collaborating Key To Keeping Housing 'Affordable'
Abila acknowledges that, as the economy picks up so does the cost of building. So maintaining the "affordable" component continues to be a somewhat daunting endeavor. "We rely on the community, our contractors and businesses — and the county. It is kind of a tough place to be in because we want the economy to grow but at the same time it really does affect even what we can afford to build," she notes.
So the answer, according to Abila, continues to be to put that much more energy into collaborating and building. "People are moving away from Tuolumne County – people we rely on…who work at our local retail stores, the places that we visit to eat – even all the way to Adventist Health [Medical Center]," she points out. "We have people in our homes who work for all these different places…from Walmart, to Adventist Health, to Black Oak Casino, and the problem that [local workforce members] are having is that there is nowhere here [affordable] to live."
Not only is local housing limited, what is available in the affordable range is often substandard, Abila states. She confides, "One of our homebuyers was living in an under 500 square-foot apartment and paying close to $900 in rent with both of them working." Now that same family owns their own, over 1,200 square foot solar-powered and energy-efficient home with three bedrooms, two and a half baths. "The kids for the first time have their own rooms," she crows.
Cost Comparisons, Who Qualifies 
Better yet is the cost comparison; on average, a Habitat homebuyer pays $790 per month, a packaged payment plan that includes not only the principal payment but also taxes and insurance.
To qualify for the program, this year's eligible income range for a one-person household is at least $18,680/yr ($1,556/mo) but no more than $34,000/yr ($2,833/mo). For a four-person household it is between $26,680/yr ($2,223/mo) and $48,550/yr ($4,045/mo).
To view Habitat's current brochure that provides a breakdown grid covering the guidelines for households ranging up to seven persons – and a bullet list of other basic application requirements, click into the image box slideshow.
Helping Hands, Resources Welcome 
For those interested in supporting the cause, Abila says Habitat is grateful for whatever people are willing to give, be it time and talents or gifts that can be financial or any in kind products and services that have to do with building.
Volunteer-wise, "If you can hold a paint brush we will teach you how to do it. You do not have to be a skilled carpenter to help at Habitat," Abila beckons. "There is always something to do – and we are always looking for help in our ReStore, which helps us keep our operations going." Chores there, as she describes, might involve accepting and sorting donations, getting merchandise on the shelves. Still another way, she suggests is to pay the ReStore a visit.
"Drop [unwanted usable] items off, do some shopping…because the majority of the funds go to building. We are on a very tight budget for our operations — and the ReStore helps us on that," she states. Located at 14216 Tuolumne Road in Sonora, the Restore is open 9 a.m. until 5 p.m. Monday through Saturday. For more details on Habitat activities, click here.