Skip Driving And Hop Onboard For Destinations Along The Highway 4 Corridor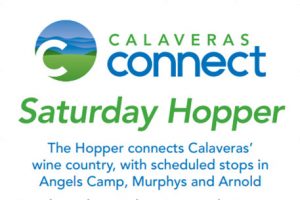 Calaveras Connect Saturday Hopper flyer

View Photo
Angels Camp, CA — Starting today, leave the vehicle at home and let the Calaveras Connect Saturday Hopper buses do the driving to get you where you want to go along the Highway 4 corridor.
The bus provides riders with connections from Angels Camp to Murphys and Dial-a-Ride service to Arnold on Saturdays only. The Hopper provides service for anything you have to do or want to do on Saturdays, like going to the Murphys Irish Day today, as detailed here, or any upcoming events.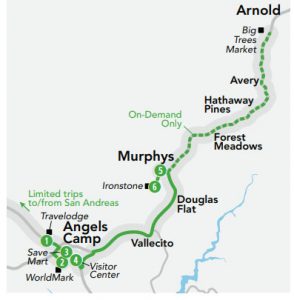 There are designated stops on the highway, as can be seen on the map. Riders can also flag the bus down, and wherever it is safe for the bus to stop, they will be picked up, or call customer service at (209) 754-4450 to schedule a pickup at a location within ¾ of a mile of the route. The cost is $3 for those ages 13–64 for a one-way trip. The hopper schedule continues through November 4th; for further information on the prices and the schedule, click here.