The Murphys Irish Day Celebration Will Impact Travel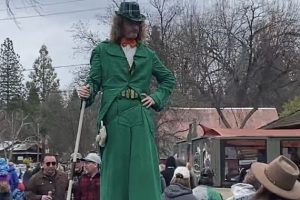 Murphys Irish Day Festival

View Photos
Murphys, CA — A sea of green will line the streets of downtown Murphys tomorrow and impact travel.
The Murphys Irish Day includes a parade down Main Street with plenty of floats, bands, horses, dogs, and even a stilted leprechaun, bringing smiles to kids and the young at heart alike.
Travelers may want to just park the vehicle and join in the fun, but if that is not an option, the following roads in Murphys will be impacted by the event:
Main Street, from Big Trees Road to Murphys Grade Road, will be closed to all traffic from 6:00 a.m. to 7:00 p.m. Through traffic will be required to use an alternate route.
Sheep Ranch Road, Church Street, and Algiers Street will all be closed at Main Street and restricted at Jones Street.
Algiers Street, from Scott Street to Main Street, will be closed for the parade.
Scott Street, from Jones Street to Main Street, will be closed for the parade.
Motorists are asked to observe all traffic control signs and the instructions of onsite personnel. The festivities run from 10 a.m. to 5 p.m. with the parade starting at 11 a.m. Questions regarding the event can be directed to the Murphys Business Association at (209) 401-8208.