New Details On Yesterday's Fiery Fatal HWY 108/120 Crash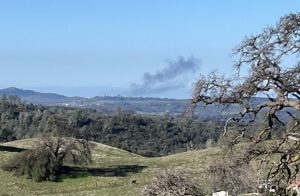 Fatal Vehicle Fire On Highway 108

View Photo
Tuolumne County, CA – The CHP has released new details regarding a two-vehicle crash on Highway 108/120 west of Jamestown that resulted in a Sonora man being flown from the scene and another person being pronounced dead at the scene.
The name of the deceased is not being released pending family notification. The collision happened just after 9 a.m. on Thursday, east of the La Grange Road intersection in the Keystone area. It stalled traffic for hours, first closing that section of roadway for about an hour, and then officers directed one-way traffic for more than an hour as the wreckage was cleared, as detailed here.
The CHP reports that the deceased was driving a 2003 Honda eastbound on the highway east of La Grange Road. At the same time, 47-year-old Joshua Selesia of Sonora was traveling westbound in a 2013 Ford F-650 tow truck, carrying a 2001 Ford Excursion SUV. The driver of the car went onto the south shoulder and then overcorrected, traveling into the truck's path, according to the CHP. The left front of the truck hit the right side of the Honda. The force of the impact dislodged the SUV from the flatbed.
Once the vehicles came to rest, the CHP disclosed that the car burst into flames, fully engulfing the Honda and spreading to the truck and SUV. Black smoke could be seen billowing into the sky. This crash remains under investigation, but drugs and alcohol are not suspected.