Update: Fatal Crash On Highway 108 In Tuolumne County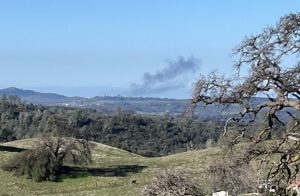 Fatal Vehicle Fire On Highway 108

View Photo
Update at noon: The CHP reports that there is still one-way traffic control, utilizing a side dirt road, on Highway 108 at Keystone Ranch. Be prepared for continued delays. Providing an update on injuries sustained, the CHP notes that there was one fatality and a second person was flown from the area to treat major injuries. No additional information is immediately available.
Update at 10:14am: The CHP reports that there is now one-way traffic control around the crash scene on Highway 108 near Keystone Ranch, as officials are diverting travelers along a nearby dirt road. Use caution in the area and be prepared for a delay.
Original story posted at 10am: The CHP and fire officials are on the scene of a major crash on Highway 108 near Keystone Ranch, west of Jamestown.
There was a tow truck, carrying another vehicle, which reportedly crashed with an SUV. One of the vehicles caught on fire. The CHP confirms that there is at least one fatality. The fire has been extinguished. Highway 108 is completely blocked at Keystone Ranch. You will need to avoid the area until further notice.