Closures Remain On Two Mother Lode Highways; A Third Reopens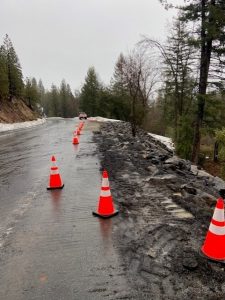 Storm damage repairs to Highway 120 at Hardin Flat Road

View Photos
Sonora, CA — The wet, stormy weather continues to wreak havoc on several highways in the Mother Lode, closing down sections of three highways this weekend.
Highway 120, between Hardin Flat Road and the South Fork Tuolumne Bridge, in the Groveland area of Tuolumne County, was closed on Saturday due to the roadway washing out from the heavy rains. On Sunday, crews were able to get one lane open to traffic, as reported here. The final repairs were done on Monday, and the highway fully reopened just after seven this morning.
The other two highways are in Mariposa, where Caltrans crews continue to work on repairs and clearing debris to reopen them as quickly as possible. Caltrans provided these closure updates as of 8 a.m.:
Mariposa County:
One-way traffic control on Highway 49 at Bagby Vista Point for slide removal. There is no ETO (estimated time open).
Full highway closure of Highway 140 from Foresta Road to El Portal Road for slide removal. There is no ETO.
Full closure of eastbound SR-140 at the Yosemite National Park boundary for snow removal. There is no ETO.
Additionally, on Sunday, Governor Gavin Newsom added Calaveras County to the list of 34 counties, including Amador, Mariposa and Tuolumne, that had already been declared under a state of emergency, authorizing federal funds.
A National Weather Service Flood Watch remains in effect until 10 a.m. Wednesday for elevations below 4000 feet, with a High Wind Warning lasting until Tuesday at 11 p.m., and thunderstorms are possible, as reported here.
With a limit of ten bags per resident, the Calaveras County Office of Emergency Services reminds the public of these sandbag locations and to bring your own shovel:
Arnold Library, 1065 Blagen Rd,
Glencoe Maintenance Yard, 16151 Hwy 26 (Closes at 3:30 pm)
Jenny Lind Yard, 11558 Milton Rd. (Closes at 3:30 pm)
San Andreas Rd Yard, 891 Mt Ranch Rd. (Closes at 3:30 pm)
Mountain Ranch Community Center Parking lot next to the Public Safety Substation, 7869 Whiskey Slide Rd.
Murphys Fire Station, 37 Jones St.
Vista Del Lago Cul-De-Sac near Valley Springs Dental, 313 Vista Del Lago
Mangili Rd. Cul-De-Sac at Valley Springs Sports and Fitness, 145 Mangili Rd.Copperopolis Fire Department, 370 Main St.
Mokelumne Hill Fire, 8160 Church Street
West Point Volunteer Fire Department, 195 Spink Rd.
Angels Camp, sand and sandbags are available at 200 Monte Verda (behind the Police Department)
Additional resources include:
County snowplow information line 209-754-6017.
Public works roads information line 209-754-6401 more
Calaveras County Animal Services small animal evacuation 209-754-6866
Calaveras County Fairgrounds large animal/livestock evacuation 209-736-2561