Flood Advisories & High Wind Warnings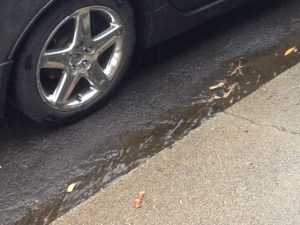 Rain Along The Streets Of Downtown Sonora

View Photo
The National Weather Service has issued a Flood Advisory for Calaveras County until noon today. A Flood Advisory is also in effect for Tuolumne and Mariposa counties until 12:45 PM this afternoon.
Flooding caused by excessive rainfall is expected. Minor flooding is expected to begin shortly in the advisory area, and will impact the morning commute for many locations. Heavy rain may fall on a deep primed snowpack in the higher elevations, leading to the melt increasing.
Expect minor flooding in low-lying and poor drainage areas and water over roadways. Ponding of water in urban or other areas is occurring or is imminent. River or stream flows are elevated and may increase quickly and reach critical levels.
Turn around, don`t drown when encountering flooded roads. Most flood deaths occur in vehicles. Be aware of your surroundings and do not drive on flooded roads. In hilly terrain there are hundreds of low water crossings which are potentially dangerous in heavy rain. Do not attempt to cross flooded roads. Find an alternate route.
The overall Flood Watch that has been issued for the Mother Lode, the western slope of the northern Sierra Nevada, Yosemite National Park, Mariposa County and the northern and central San Joaquin Valley, will continue until Wednesday morning.
You should be alert for possible Flood Warnings. Those living in areas prone to flooding should be prepared to take action should flooding develop.
Additionally, a High Wind Warning issued for the Mother Lode, the western slope of the northern Sierra Nevada and the northern San Joaquin Valley, will remain in effect until 11 PM tonight.
South winds of twenty-five to thirty-five mph are expected, with gusts ranging from fifty to seventy-five mph. The higher you go, the stronger the wind gusts.
Damaging winds will blow down tree and power lines. Saturated soils could lead to additional downed trees. Widespread power outages are expected. Travel will be difficult, especially for high profile vehicles.
The strongest winds are expected to develop this morning and continue into this evening.
People should avoid being outside in forested areas and around trees and branches. If possible, remain in the lower levels of your home during the windstorm, and avoid windows. Use caution if you must drive.
Finally, the Winter Storm Warning that has been issued for the western slope of the northern Sierra Nevada and Yosemite National Park above 7,000 feet, will continue until 5 PM Wednesday.
Additional snow accumulations above the 7,000 foot elevation will range from one to five feet.
Winds will continue to gust as high as sixty-five to seventy-five mph.
Travel in the upper elevations, continues to be very difficult, if not impossible. There will be reduced visibility at times due to heavy snow. Very strong winds could cause extensive tree damage.
The snow levels will be rising to 7,500 to 8,500 feet today, lowering to 4,000 to 6,000 feet tonight, and down to 3,000 to 5,000 feet by Wednesday morning.
If you must travel, keep an extra flashlight, food, and water in your vehicle in case of an emergency.