State Of Jefferson Backers File Lawsuit Aimed At Expanding Legislature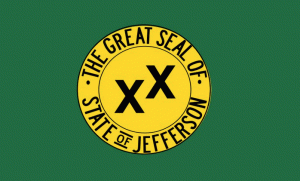 State of Jefferson

View Photos
Sacramento, CA — While the move is not specifically related to creating a 51st state, the group pushing for a State of Jefferson has filed a lawsuit arguing that rural counties do not receive enough representation in the state legislature.
The Associated Press reports that a federal lawsuit argues that 40 state Senators, and 80 Assembly members, is no longer enough for a state that has grown in population to 40-million.
The lawsuit against Secretary of State Alex Padilla was filed by "Citizens For Fair Representation," a group which is directly associated with the State of Jefferson movement. It calls for expanding the Senate to one member per county (58-total), and also adding more Assembly seats so that there are fewer residents per member.
The lawsuit argues that the current legislative formula, which has more representation in urban counties than rural, as it is where the majority of the population lives, gives rural California an insufficient voice on issues being debated in Sacramento.
The group also held a rally last year at the state capitol, and pushed for legislation to pave the way for the creation of a state of Jefferson, but could not find any state lawmakers willing to carry the legislation.