Gas Prices To Creep Up As Summer Travel Season Approaches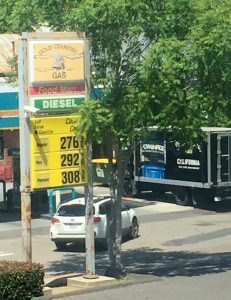 Gold Country Gas station in Sonora

View Photos
Sonora, CA – Around the Mother Lode the average cost to fuel up at the pump is trending lower than across the state but state gas prices, still second-highest in the nation, are expected to shortly again be on the rise.
Increased refinery production rates, in tandem with moderate demand and an unseasonal overabundance of gasoline in the marketplace, is causing falling gas prices across the US, according to AAA Northern California spokesperson John Moreno.
However, he states the West Coast is the only region in the country where the demand is meeting the current abundance of gasoline, adding that, with the summer travel season right around the corner, increased demand will likely cause gas prices to rise.
Right now, California's average price for a gallon of regular unleaded gasoline of $2.97 is only lower than Hawaii's, which currently sits at $3.06.
South Carolina Selling Cheapest Gas
Moreno points out that, despite small price declines on the week, the West Coast region remains the most expensive market in the country for gasoline. South Carolina at this point holds boasting rights for the lowest average state price in the nation at $2.04.
While the state average is just a penny lower than a week and a month ago, Californians are shelling out 17 cents more than they were a year ago at this time. Across the country, consumers are paying 13 cents more.
Of the Northern California cities surveyed by AAA, the low-to-high range is currently anchored on each end by Marysville at $2.67 and South Lake Tahoe at $3.14.
Today, on myMotherLode.com Sonora gas prices today are ranging from $2.65 to $3.03; in San Andreas, from $2.73 to $2.89. To view the current listings, click here.