Thieves Hit Forestry Buildings In Tuolumne County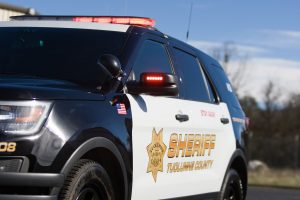 Tuolumne County Sheriff's Office Vehicle

View Photos
Groveland, CA — Tuolumne County Sheriff's officials are investigating a recent burglary at the Groveland Forest Service Ranger Station on Highway 120 in Groveland.
Tuolumne County Sheriff's Deputies discovered numerous items were stolen from several U.S. Department of Forest Service buildings and conex boxes inside them. Among the stolen items were a government credit card, a two-way portable radio, chainsaws and other personal property belonging to firefighters.   Sgt. Andrea Benson adds, "There were also some firefighters' personal lockers broken into with items like, clothing, boots and equipment that they would need on the job."
Additionally, Station 63 located on Smith Station Road had a broken window at the rear of the garage.  Sgt. Benson reports they do not know how many suspects may be involved in the theft  but she notes, "The broken window did have a footprint of a shoe, just one print, located under the window." She adds that no items were taken from that building.
Anyone with information regarding the burglary is asked to call detectives at(209) 533-5815.