Round Two For A Proposed Food Court In Sonora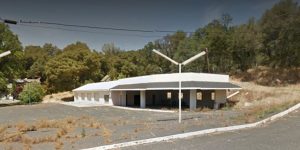 Arco food court site

View Photos
Sonora, CA –The owner of the ARCO gas station in Sonora is making a second attempt to rezone the property off Highway 49 and Pesce Way to include a 3,700 square-foot food court — and some neighbors are not pleased the project is getting another look by the city.
The original plans were submitted and then pulled by the property owner, Andy Singh of JayKay Properties, LLC, before the Sonora City Planning Commission could make a recommendation.
Commissioners will now take up the ARCO Rezone Project at their Monday meeting. Originally, the owner, had proposed to change the zoning on the north end of the site where a former auto dealership building still stands. This time the owner is instead proposing to unify the parcel by changing the zoning of the ampm gas station from planned development to general commercial, the same as the vacant building, according to Sonora Community Development Director Rachelle Kellogg. She adds, "In that location they are planning to do some type of food court, a drive-thru type facility. They are looking for some type of access through their existing parcel at the ARCO station but also a secondary access off Pesce Way."
It is that proposed entrance that has some residents along Pesce Way upset citing increased traffic as their major opposition. (For city documents including a letter from one frustrated neighbor and Caltrans see below.) Also, as reported here last summer, Sonora High School officials also had concerns about student safety due to the lack of sidewalk from the school to the proposed site. Kellogg acknowledges, "We are very aware that some of the residents in the neighborhood are not pleased with the access onto Pecse Way. So, we anticipate that there will be surrounding neighbors that'll be at the meeting to discuss their concerns. I imagine there will also be people there in support of the project."
The planning commission is only tasked with giving a recommendation to the Sonora City Council on the proposal. The council will have the final say on whether to allow the zoning change. The planning commission meeting begins at 5:30 p.m. in the council's chamber at City Hall located at 94 N. Washington Street in Sonora.
 Pesce Way resident opposed to the ARCO Rezone Project