Sonora Trustees To Award More Contracts, Discuss Proposed Food Court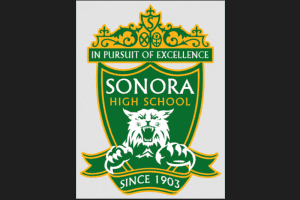 Sonora High School logo

View Photos
Sonora, CA — Viewing the end-of-year "Lip Dub" (link here), contract awards for campus improvements and a robust discussion over a possible food court locating nearby are on the Sonora High trustees' next agenda.
According to next Tuesday's meeting documents, the board anticipates awarding a $6,383,000 contract for the Sonora Aquatic Center to Robert Boyer Construction. It also expects to make a $59,000 contract to cover the maintenance and operations building roof replacement to Nations Roof. Both are Measure J projects already on the books. District Superintendent Pat Chabot estimates that the center may take 12 to 15 months to complete, which might mean that it will be ready in time for the 2017-18 school year. The roof work, he says, may well be finished over the summer.
Chabot indicated, ahead of the last board meeting, that a contract would also likely be awarded for the school's new, sorely needed surveillance camera system, as reported here. While plans are still to pull the trigger on it as soon as possible, he states, "We are doing a second bid walk on Tuesday…and will award the bid at the next board meeting on June 21st."
In several stories by Clarke Broadcasting over the course of what is now the past school year (including here) campus safety issues, due to the lack of updated security cameras were made obvious after a vicious locker room attack on a student. Chabot maintains that the system is slated to be installed over the summer or by shortly into the new school year.
Fast Food and Firearms
The trustees will also consider drafting a letter of response over recently submitted plans to the city by the nearby ARCO gas station and ampm store on Pesce Way. Its owners are proposing to build a food court within a 3,700 square-foot building on a site where a auto dealership was formerly located. Chabot shares as of yet, the matter has not been the focus of much discussion.
Thinking ahead to Tuesday, Chabot predicts, "I think the biggest issue we will have is the safety of our students. There is no sidewalk for a large portion of the way between the high school and the proposed location of the food court…traffic along that part of Highway 49 can be very fast at times."
Chabot says that another possible bone of contention may well focus on concerns about what kinds of food options might be offered, stressing an obvious preference for healthy foods, versus unhealthy fast foods, candy and such. "The last issue I can think of will be competition for our newly renovated cafeteria — we only serve healthy, nutritious food to our students — and it will be hard to compete with hamburgers and fries and other junk food," he points out. On the plus side, he adds, "I imagine the food court could provide potential jobs for our students, and sales tax for the city."
Other board business includes setting the district's policy regarding new laws pertaining to firearms on school grounds. SB 707 prohibits a person with a valid Carry Concealed Weapon (CCW) license from possessing a firearm on school grounds unless he or she obtains written permission from the superintendent or district designee. Previous state law established gun-free school zones on campus and within 1,000 feet of a school, but made certain exceptions including for those with CCW permits, which was not widely known by the public. Subsequently, the law was amended to provide that persons with CCW permits may still carry firearms within 1,000 feet of a school but not on campus without specific written district authorization. Telegraphing his position, Chabot states, "I am recommending we adopt the JPA stance of not allowing anyone to have concealed weapons on campus, except of course, for law enforcement officers."
Tuesday's meeting will begin at 6 p.m. in the high school's first floor conference room (100 School St.).