Some Road Closures Continue In Tuolumne County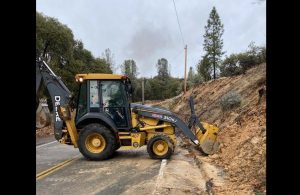 Tuolumne County Crews Clean Roads After Storms

View Photo
Sonora, CA — Tuolumne County officials continue to assess the damages, and clean up, from the recent storm systems, ahead of more wet weather arriving throughout the next few days.
Most roadways that were flooded have now reopened after the water receded. However, some areas suffered damage, and are in need of repairs.
The latest list from the county is below:
Current Road Closures
Red Hills Rd
Marshes Flat Rd – Moccasin Ranch to Sunset Oaks
Buchanan Rd – only one lane open due to mudslide
Only Open To Residents Living Nearby And Needing Access
Mather Rd
Cherry Lake Rd
Earlier Closed But Now Completely Open
Big Hill Rd
Mi Wu St
Golf Club Dr
Muir Ave
American River Dr
South Fork Rd
O'Byrne's Ferry Rd
N Stewart St
Rawhide Rd
Parrot's Ferry Rd
Old Priest Grade
Placer Dr
Colorado River Drive South
Union Hill Rd
Bell Mooney Rd
To read a story about Calaveras County road closures, click here, and to see a story about Mariposa closures, click here.