Counsel To Review Lawsuit Supported By State Of Jefferson Group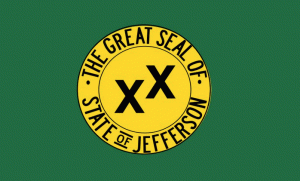 State of Jefferson

View Photos
Sonora, CA — The Tuolumne County Board of Supervisors spent an hour this morning hearing more input from the community about a group's hope of breaking off and creating a 51st state.
We reported earlier this month, during a packed meeting at the Mother Lode Fairgrounds, the Board of Supervisors directed county staff to review the financial impacts, and related pros and cons, of supporting the Jefferson movement.
Representatives were on hand again this morning from the Jefferson group, and the purpose to was to request the county's support for a lawsuit related to the California Constitution and the proportion of representatives in the Assembly and Senate. It argues that the legislative cap, of 40 Senators and 80 Assemblymembers, was approved in 1879 and is in need of a redo. Proponents noted that the lawsuit is not directly for the State of Jefferson per se, and that support for the lawsuit does not include any county financial support.
What followed was another debate about the merits of creating a 51st state, as many members of the public then came up and spoke both in favor and in opposition to the State of Jefferson. Those in favor focused on the lack of representation rural communities have in Sacramento and concerns about over regulation. Opponents argued that creating Jefferson would result in less local revenue, reduced educational opportunities and lost benefits of being in the largest state.
Some of the Supervisors, Evan Royce, John Gray, Randy Hanvelt and Karl Rodefer, spoke very positively about the State of Jefferson movement, but there were collective concerns about the county spending money on a cause that has many steep hurdles, such as needing approval from the State Legislature and US Congress. Today the board voted unanimously to direct County Counsel Sarah Carrillo to review the merits  of the above referenced lawsuit, and bring back additional information to the board. It is in addition to the action taken two weeks ago related to the State of Jefferson.
Some of the Supervisors today did note they prefer the State of Jefferson to be a populist driven movement, and not necessarily a Board of Supervisors decision. If it goes before voters, it was indicated that it would likely be done during an election year, as the cost for a special election would be around $75,000. The State of Jefferson is an item that will have continued discussion at future meetings.