Tuolumne County Supervisors Express Openness To Joining State Of Jefferson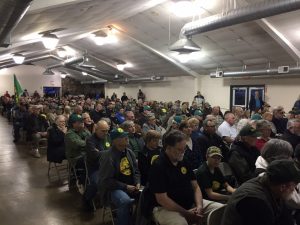 Tuolumne County Supervisors Hear About State Of Jefferson

View Photos
Sonora, CA — The Tuolumne County Supervisors want to learn more about the economic impacts of joining a movement to create a 51st state, Jefferson.
The Board held a meeting before a packed house at the Mother Lode Fairgrounds on Tuesday evening where they directed staff members to come back at a future meeting with an analysis of the pros and cons. The first half-hour of the meeting featured State of Jefferson organizer Terry Rapoza speaking about the positives of separating from the State of California, in which he received a standing ovation from the hundreds in attendance. There was talk about over-regulation and the need for more independence. The second half hour featured Cindy Ellsmore, of Keep it California, speaking about the negatives of breaking off from the largest state. At one point she stated that Tuolumne County residents send $41.5-million to Sacramento each year and receives back $75-million for county government and schools. She says funding would be much less under the current model for Jefferson. However, District Five Supervisor Karl Rodefer questioned the legitimacy of those numbers, and believes that the county receives closer to around 75-cents for every dollar sent to Sacramento. This is one of the reasons that an economic analysis was requested, and both Rapoza and Ellsmore agreed that this would be a good idea. Rodefer also countered that county expenses could be reduced if the State of Jefferson has fewer regulatory requirements and no prevailing wage.
During the discussion, Supervisor Evan Royce spoke very favorably about joining the Jefferson movement, to which he also received loud applause.
After the Supervisors receive the economic figures, the board will decide whether to vote to endorse the movement, or potentially put it before county voters to decide. A handful of counties have formally endorsed the State of Jefferson at this point.  In order for the State of Jefferson to eventually become a recognized state, a majority of California lawmakers would also have to approve, as well as a majority of the federal legislature.