Increased Fish Flows Under The Bay-Delta Plan Criticized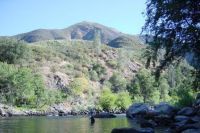 Tuolumne River

View Photos
Sacramento, CA — Friday at noon state water regulators closed the window for public input on a document guiding hotly contested flow increases under the Bay-Delta water quality control plan first-phase.
Weighing in under the wire with sharp criticisms the Modesto (MID) and Turlock (TID) irrigation districts submitted joint comments to the State Water Resources Control Board (SWRCB) regarding the board's supporting revised draft substitute environmental document (SED). They also submitted nearly 6,600 petitions gathered as part of a related joint advocacy campaign.
The districts' joint comments call out a number of technical and legal issues relating to the SED and reference their recent, most focused and collaborative Tuolumne River scientific research that was conducted as part of the federal relicensing of the Don Pedro Project. The districts maintain their findings suggest that potential Tuolumne River improvements are due to a measured approach to the river management rather than the "hasty unimpaired flow regime" that the SED details.
Up to 50% Unimpaired Flows
Under the proposed plan, MID and TID would be required to dedicate 30 to 50 percent of unimpaired flows along the Tuolumne River from February 1 to June 30 annually with the intent to improve fish and wildlife conditions and control Delta salinity.
The districts state that the SED fails to accurately analyze what it proposes; that it does not demonstrate an understanding of the current physical conditions and resources of the lower Tuolumne River; also that it largely ignores the vast body of scientific data and technical information that has been compiled on the Tuolumne River and its associated resources over the last 20-plus years.
They also maintain that SWRCB's preferred alternative will have an adverse effect on the fry and juvenile life stage of Tuolumne River fall-run Chinook salmon.
The Bay-Delta Plan is required by law to be updated every three years by the board. The plan goals are to identify beneficial uses of water; set water quality objectives and implement a program for achieving those objectives. Next in process with the the comment period over is for the water board to review the input.