Mark Twain Health Care District Shapes Its Options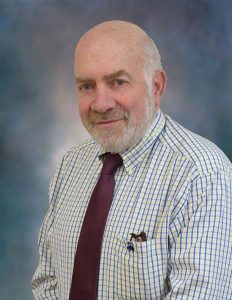 MTHCD Interim ED, Larry Blitz

View Photos
San Andreas, CA — The interim head of a health care district with big decisions looming says he spent plenty of time playing "Columbo" in order to help effectively guide matters at hand.
Larry Blitz of Wipfli Healthcare Facilitation Services was chosen last December by the Mark Twain Health Care District (MTHCD) board to serve as interim executive director after a previous hire to replace the retiring Daymon Doss did not work out.
Ahead of Wednesday morning's district board meeting at the hospital, Blitz says he hopes to provide a closed session update concerning clarifications he requested from Quorom Health Resources. These deal with a recently released report that the district commissioned from Quorom several months ago at a cost of $175,000. The scope is to provide local environment analysis, potential opportunities and an outline of options for the district to consider in deciding the hospital's future operations.
Still Qualifying Quorum Input
"We still have not been able to give it to the rest of the board until we finish our discussions, as it is very complicated," Blitz comments, adding that Quorom has been very cooperative and he expects that the district will ultimately get what he has requested. After fully reviewed in committee and presented to the full board the report will be made available to the public.
As reported here, the district's current lease with Dignity Health expires in the not too distant future on Dec. 31, 2019. Well before then the board must determine how the district should move forward, planning for the next 20 to 30 years ahead. Although Blitz says he believes the district has a good relationship with Dignity and it seems to have an interest in continuing the relationship, serious discussions have yet to begin in earnest.
Complicating matters is that the district and Dignity share a long-term partnership in Mark Twain Medical Center Corporation. If no new contract comes out of the talks, both would equally split any net assets, recently valued at $37 million. Of questions the district is pondering to ask in re-negotiations Blitz shares, "We will be asking what is their dedication to rural hospital survival and what kind of resources are you going to devote to it; and if you are, what kind of arrangements or leaseholds are you thinking about?"
Weighing Potential Options
While an agreement might be made with another organization to either purchase or lease the hospital, as outlined in the executive summary of the Quorom report, the district could also opt to independently run it, a decision that brings both more autonomy and risks. Possible ways to continue on with Dignity are as abovementioned, renegotiating the arrangement; or leasing control of the hospital while pulling out certain assets like the district's rural health clinics and medical office buildings.
Blitz shares that his self-described somewhat TV sleuth-like experience over the past three months continues to be one of listening and asking questions while parsing ideas and suggestions. As a result, he says, "I think I have brought more of a business reality platform to the district…one of the things that I think I have brought to the community is a reality orientation to running a successful healthcare business."
Adding his passion and pragmatic expertise to the energies of what he calls a bright, well-meaning board, Blitz says their process will focus on examining status, needs and seriously consider what kind of business plans interested entities might bring to the table that could best fulfill the community's needs and interests.
The District 'In The Driver's Seat'
The way he sees it, Mark Twain Medical Center is a nice hospital with a good reputation. "The district is in the driver's seat to ask [the questions]…what do you have to sell, what are you going to do to enhance the services that we have here — and how are you going to make it financially to do that? I think that we have that responsibility…to ensure that the citizens get what they want."
Currently the district is legally unable to disclose much about discussions with Dignity or other potential suitors but Blitz confirms that other entities who might specialize in rural hospitals are in the mix. He adds, "I think the ultimate goal is that we have a direction of who we want to be with or operate ourselves by the end of the summer. Then we can go onto a timeline of taking this to the voters."
As the district is supported by county property owners' taxes, whatever ultimate agreement it proposes to make for operating the hospital must also be approved by Calaveras County resident-voters; however, since the ballot could be a by-mail one, it is not necessary to synch with an election cycle.
Either way, when finalized the district's initiative will take the form of a yea or nay query. It will also fully brief residents on the board decision's key details; as Blitz puts it, "All the good, the bad and the ugly — the pros and the cons of why they want to make that recommendation contractual."