Tuolumne Homeowners Have Over $2 Million To Tap For Tree Removals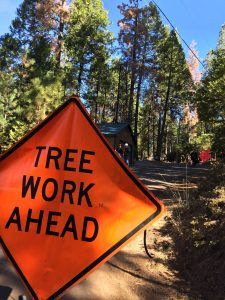 Tree Work sign

View Photos
Sonora, CA –For private property owners tangling with dead and dying trees near their homes more substantial financial help is finally in the wings.
At this week's Tuolumne County supervisors' meeting the board welcomed word that a Jan. 17 county grant application to CAL Fire for SRA (State Responsibility Area Fire Prevention Fund) Tree Mortality Grants came back with a high-dollar approval.
Sharing the news Tracey Riggs stated, "We are very grateful for the amount…Tuolumne County received the second highest in the State of California, with Fresno receiving about $2.6 million — and our county receiving almost $2.4 million." Continuing, she stressed, "It is an opportunity to get out and do a lot of work on a lot of private lands that we did not have before — but in order for this to happen, it is going to take a lot of work from a lot of people."
Criteria For Tapping Tree Removal Funding Assistance
Detailing how the grant monies would be applied, Riggs and other county staff heads on hand recounted previous board directions to their offices. Among these: focus on those trees that would strike a habitable structure; place a cap of $10,000 per parcel; have landowners provide up to a 50 percent cost share depending on income level and number of trees being removed; also ensure that there be no cost share for low income owners.
Riggs additionally outlined that it would be possible for contractors hired by the county to enable the hauling away of logs and woody debris from work previously done by homeowners at the same time. She also indicated that right of entry forms would be required, allowing personnel property access to assess, mark and cut remove the hazard trees. While project developments for removals will base on grant-approved zones, she stated that plan modifications may allow for more work nearby.
Details are still being worked out as to exactly how the funding program will work. During Riggs' presentation board members gave staff direction in a few areas. These include ensuring that county administration costs are covered as well as to provide homeowners unable to pay their cost share portion upfront with an option to qualify for a repayment plan to the county general fund. This is tentatively set to be at a three percent interest rate, which is consistent with how county agencies who borrow from the fund repay it.
In Other Related News
Riggs reported that the current felling project in Mi-Wuk Village is nearing completion. Once the trees have all been cut she noted that CAL Fire will move in with inmate crews that will do chipping and brush cleanup. Trees have now been marked for removal in the Cedar Ridge and Sugar Pine subdivisions, ahead of contractors being chosen. An RFP is also being put together by OES for some trees along Sugar Pine Trail that need to be addressed.
The US Forest Service agreement to abate hazard trees on its lands adjacent to county roads has been modified and Riggs announced that Ferretti Road will be the first project.
As CAL Fire tree mortality grant funding comes in — and due to the county's US Forest Service road agreement — her office has also reopened its request for qualifications (RFQ) for registered professional foresters and certified arborists and posted the form on the county website. RFQs from licensed timber operators and D-49 tree service contractors for future projects continue to be accepted.
Riggs also emphasized that the Tuolumne County tree mortality task force will be hosting a community forum at the Mother Lode Fair Grounds Manzinita building on Saturday, March 4 from 9 a.m. until 2 p.m. Members of the public are invited to attend so they may hear the latest on current and potential tree removal projects.