Berryhill Bill Very Similar To Trump's Executive Order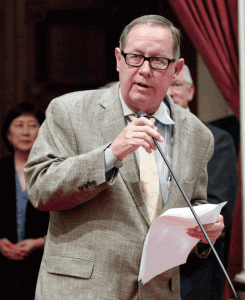 Senator Tom Berryhill

View Photos
Sacramento, CA — Mother Lode Republican Senator Tom Berryhill has introduced state legislation that he says is very similar to an executive order signed by President Trump this week regarding regulations.
The President signed a "one in, two out" order that requires two federal regulations be scrapped before a new one can be implemented. Berryhill's new bill would take it a step further and require any state government agency requesting a new regulation to identify two regulations that it will cut from its department.
Berryhill says, "Let's make California great again. We have systematically stifled the entrepreneurial spirit that built this country with a patchwork of regulations governing every aspect of our lives. From farmers to restaurant owners; manufacturers to retailers, all feel the overwhelming burden of a government out of control."
Berryhill's District 8 covers much of the Sierra Nevada, including both Tuolumne and Calaveras counties.