Narcotics Arrest In Sonora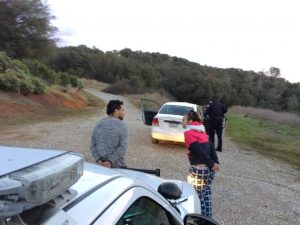 Narcotics Arrest In Sonora

View Photos
Sonora, CA — The Sonora Police Department made a drug bust last night in the area of Southgate Drive and nabbed two suspects who were just arrested Tuesday on similar charges.
The Police Department reports that a vehicle was parked off of a dirt road, and an officer went over to investigate the situation. Two people were inside, identified as Nicholas Goodwin and Ashley Griffiths. The officer located suspected heroin and several hypodermic needles. Goodwin was arrested for possession of a controlled substance, possession of drug paraphernalia and violation of parole. Griffiths was cited and released for possession of a controlled substance and possession of drug paraphernalia. The incident occurred at around 5pm.
As reported here, Goodwin and Griffiths were arrested on Tuesday after a K-9 sniffed out drugs in their car while parked in front of a Sonora motel.