Curious Deputy Rewarded With Drug Bust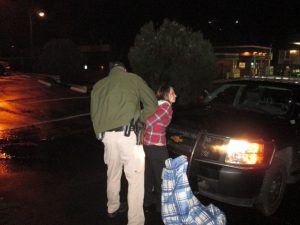 Griffith arrest

View Photos
Sonora, CA – A Tuolumne County Sheriff's Deputy's interest was piqued when he noticed a car parked and running in front of a Sonora motel and then recognized the man inside was wanted on drug warrants.
The bust happened just before 11 p.m. Monday at the Inns of California on South Washington Street.  Deputy David Poel pulled alongside the 2006 Chevy Aveo and spotted 22-year-old Nicholas Goodwin who is wanted for failing to appear on drug paraphernalia warrants and is on parole for burglary.
Goodwin was behind the wheel and his passenger, 28-year-old Ashley Griffiths of Sonora when questioned admitted to being an intravenous drug user. K9 Beau was called to the scene for a sniff test. The dog alerted Deputy Poel to drugs inside the car including eight hypodermic needles, a blackened spoon, a pill, .08 grams of heroin, and other drug paraphernalia.
The pair was arrested on several drug charges and was booked into the Tuolumne County Jail.